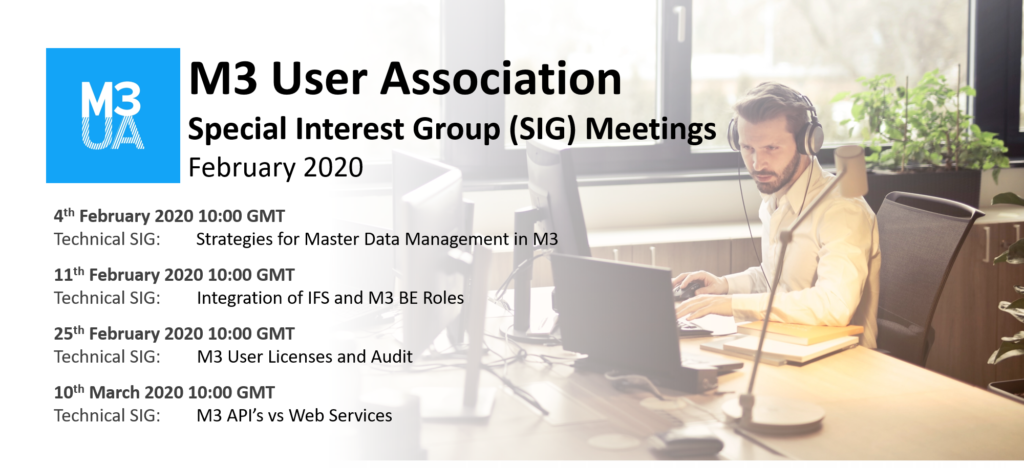 Are you already a member of the M3 User Association? If so, take advantage of your membership and register now for any or all of the following events:
MDM challenges can include any and all of: Architecture, Governance, Quality (Errors, Duplicates), Taxonomy, and Structure. Whether you are preparing for an upgrade and need to spring clean your data, or simply looking to improve your business processes and data quality, this session could help you accelerate your project. Hear about the experiences of other M3 users, explore their strategies and plans to master their data management, or join us and share yours.
Join this session to learn more about how the maintenance of M3 roles can be integrated with user management for other Infor applications using Infor Federated Services (IFS). Learn how to synchronise across multiple applications and create a single System of Record.
This session covers the processes followed by Infor to audit M3 user licenses. Topics covered will include a description of the analysis performed by Infor and discussion of user de-activation (for leavers), multiple M3 environments and handling users for Streamserve/MAK/MEC etc.
Join this session to discover the differences between Web Services created with M3 Web Service Designer, and running standard M3 MI API's. Explore how Web Services are set up and what's required to run them, when should you choose one rather than the other?
The draft agenda has been published for this year's conference and we're seeking feedback from members to ensure everyone gets as much value as possible from attending. The agenda includes updates on the M3 development roadmap, Infor's business in the UK, keynotes from our special guest speaker Nigel Montgomery and our Diamond sponsor, sessions around the Special Interest Group topics that have generated most activity during the past year and topics relating to M3 in the industries and functions that our members represent.  This is a great opportunity for M3 users from all industries and functions to learn from each other and to develop their network of M3 experts. Our sponsoring members will also be present in the Exhibition and Networking Area.

Why join the M3UA?
The primary benefit of membership is the opportunity to share knowledge and experience with representatives of other organisations using M3. Many of the M3UA member representatives have been users of M3, or service providers to companies using M3, for many years and are recognised as experts in the M3 community. A small subscription fee from each companygives you and all your colleagues all this:
Company membership, unlimited participation.
Influence on the M3 roadmap.
Attend M3UA Conferences.
Participate in Special Interest Groups.
Access member only content online.
Join the members Q&A forum.
Build your M3 network.
Discover M3 partners.
Explore complementary solutions.
Together, the members of the M3UA represent a huge and valuable pool of M3 knowledge and experience. Membership of the M3UA gives access to this resource through its activities and events, and through the M3UA website and forums.
Conference Exhibition

Does your organisation support the M3 user community with complementary software solutions or professional services? If so, M3UA membership gives you the opportunity to participate in our annual conferences as an exhibiting sponsor. Meet our members and build your brand visibility, reinforce your relationships, make new connections with M3 Users, demonstrate your expertise and establish your credibility. Sponsoring M3UA events builds market awareness and helps all members drive value from their participation.
Want to find out more about sponsoring the M3UA UK Conference 2020? Contact us here.